PIAF zveřejnil shortlist, Česko má početné zastoupení
pátek, 13. dubna 2012, 07:42
Reklama
Soutěž PIAF, spojená s mezinárodním festivalem reklamy, už zná práce, které se dostaly na shortlist. Je mezi nimi i několik prací z Česka.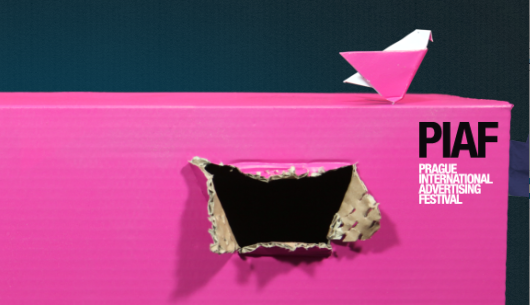 Více než stovka prací se probojovala na shortlist soutěže PIAF, která je součástí pražského mezinárodního festivalu reklamy. Ten se letos uskuteční na konci dubna.
Česko budou ve finále zastupovat mj. práce, které už ocenění sesbíraly na jiných reklamních kláních. V mediální kategorii zastupuje Česko práce Do It Yourself pro Ford Focus (agentury Ogilvy & Mather, MindShare, Wunderman).
V kategorii využití tradičních reklamních formátů má dvojí zastoupení Vodafone, a to s kampaněmi Mastheads (Ogilvy & Mather) a Houby (Mather Advertures).
Několik nominací získala i agentura Kaspen/Jung von Matt  - např. za kampaň pro pojišťovnu Kooperativa.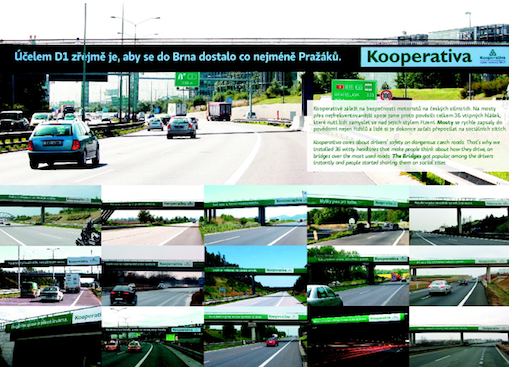 Navigace Kooperativy, avizující nebezpečí na železničních přejezedech (opět Kaspen/Jung von Matt), získala nominace hned ve dvou kategoriích (kreativní využití technologií, zapojení publika).
Ještě o jednu nominaci více získala kampaň Budějovického Budvaru Movember. V shortlistech se tak objevuje ve třech kategoriích.
Agentura Euro RSCG postupuje v soutěži např. s pracemi pro EKO-KOM (EKO-KOM Samosebou), Komerční banku (studentské konto G2) nebo pro Amnesty International (Kameny pro Sakine).
Na shortlistu se také objevuje Pepsi Epopej (MARK/BBDO), ve které mladí umělci rozvíjeli Muchův obraz Slovanská epopej.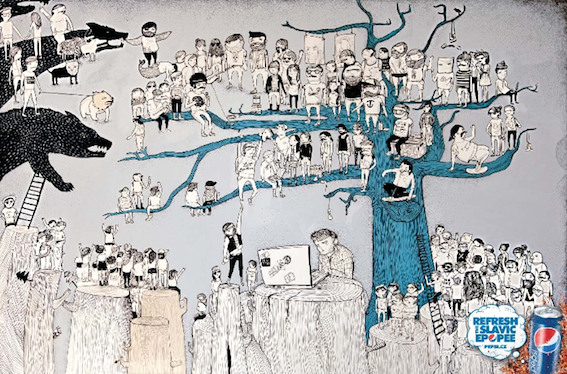 Tradiční kategorie PIAF, pivní rekama, má také dvě shortlistované práce z Česka - a to Staropramen redesign (Cocoon Group) a nealkoholické pivo Budvaru (Kaspen/Jung von Matt).
Kompletní shortlist prací soutěže PIAF 2012
| | | | | |
| --- | --- | --- | --- | --- |
| TITLE | CATEGORY | AGENCY | COUNTRY | BRAND |
| Drugs set your timeline | Creative use of traditional ad formats | Mccann Digital israel | Israel | israel anti-drug authority |
| THE AXE EFFECT PROJECT | Creative use of traditional ad formats | LOWE ISTANBUL | Turkey | AXE |
| Double vision | Creative use of traditional ad formats | Ogilvy & Mather | Czech Republic | Nadace Leontinka |
| Theatre Commercial | Creative use of traditional ad formats | MADE BY VACULIK | Slovakia | Limited edition of credit card by Tatra banka |
| Student Code Developer | Creative use of traditional ad formats | JWT Dubai | UAE | Nokia Developer |
| Kooperativa Bridges | Creative use of traditional ad formats | Kaspen/Jung von Matt a.s. | Czech Republic | Kooperativa |
| Discoboy & Turkeygirl adventures | Creative use of traditional ad formats | Red Pepper | Russia | REPUBLIC |
| Mushrooms | Creative use of traditional ad formats | Mather Advertures, s.r.o. | Czech Republic | Vodafone |
| Mastheads | Creative use of traditional ad formats | Ogilvy & Mather | Czech Republic | Vodafone |
| Der Solar-Jahresbericht | Creative sales & sales support | serviceplan campaign 3 gmbh | Germany | Austria Solar - Verein zur Förderung der thermischen Solarenergie |
| Aisa express microsite | Creative sales & sales support | SYMBIO Digital | Czech Republic | Aisa Express |
| McSundae Melt | Creative sales & sales support | Razorfish GmbH | Germany | McDonald's |
| you´ll pay with your own blood | Creative sales & sales support | CORE 4, spol. s.r.o | Slovakia | The Plot movie |
| Trip around the world | Creative sales & sales support | SYMBIO Digital | Czech Republic | ČSOB Pojišťovna |
| Your cargo will seem lighter | Creative sales & sales support | AlmapBBDO | Brasil | MAN Trucks |
| What can you get for 20 CZK? | Creative sales & sales support | Nydrle | Czech Republic | McDonald's |
| Testing Studio | Creative sales & sales support | Wunderman s.r.o. | Czech Republic | Eta |
| Movember | Creative design | Kaspen/Jung von Matt a.s. | Czech Republic | Budvar |
| Hands Say it for You | Creative design | Leo Burnett | Czech Republic | Candydate |
| Sonderstempel Menschenrechte | Creative design | serviceplan campaign 3 gmbh | Germany | Reporters Without Borders Austria / Mailing |
| GLORIOUS!- The UK's Fastest Growing Soup | Creative branding | Lambie-Nairn | United Kingdom | GLORIOUS! Soups and Sauces |
| Wild Geese Visual Identity | Creative branding | WELLEN a.s. | Czech Republic | Nadace Divoké husy / Foundation Wild Geese |
| Heineken Reach The Sunrise | Creative branding | Publicis Italy | Italy | Heineken |
| Cursormeeting | The game | HPS Experience | Hungary | Milka |
| Typography | The game | AlmapBBDO | Brasil | Billboard Magazine |
| Kauko - remotely controlled design café | The game | hasan & partners | Finland | Kauko |
| Kiss Radio - Lady Gaga/Umbrella/Good night | The game | JANDL, marketing a reklama, s.r.o. | Slovakia | Kiss Radio |
| Yes of' Corsa | The game | R&I GROUP | Russia | Opel |
| Private Banker | The game | Wiktor Leo Burnett | Slovakia | J&T Bank |
| The Artist by Renault Twingo | The game | Publicis Slovenia | Slovenia | Renault Twingo |
| THE AXE EFFECT PROJECT | The game | LOWE ISTANBUL | Turkey | AXE |
| Beneva Foundation - 1 in 4 women/2girls1cup | Flash impact | JANDL, marketing a reklama, s.r.o. | Slovakia | Beneva Foundation |
| Daruj správně / Give properly | Flash impact | OgilvyOne a.s. | Czech Republic | www.darujspravne.cz |
| Sleeping Bags Beach/Forest/Mountain | Flash impact | Y&R Group | Czech Republic | Coleman |
| Gladiator | Flash impact | Ogilvy Group Hungary | Hungary | Budapest Short Film Festival |
| Tuxedo Confessions - Get noticed | Flash impact | JANDL, marketing a reklama, s.r.o. | Slovakia | Tuxedo Confessions |
| Bike Accident | Flash impact | Y&R Group | Czech Republic | Betadine |
| G2 Account | Flash impact | Euro RSCG Prague | Czech Republic | G2 Account |
| Conductor | Flash impact | Showpony Advertising | Australia | Space Classics |
| WHEEL CHAIR | Flash impact | WMC/GREY | Czech Republic | Cesty k lidem |
| LEGO Builders of Sound | Brilliant execution | Serviceplan GmbH & Co. KG | Germany | LEGO |
| THE FAT POSTERS. Hotdog/Burger/Cake | Brilliant execution | Serviceplan | Germany | Health care. Healthy alimentation. |
| Case Havaianas Identity | Brilliant execution | AlmapBBDO | Brasil | Havaianas |
| Lukashenko/Castro | Brilliant execution | Euro RSCG Prague | Czech Republic | Amnesty International |
| Billboard Typography Full Case | Brilliant execution | AlmapBBDO | Brasil | Billboard Magazine |
| Typography | Brilliant execution | AlmapBBDO | Brasil | Billboard Magazine |
| Coincidences | Brilliant execution | AlmapBBDO | Brasil | Escola Panamericana de Arte e Design |
| OKD TV spot - That's what we do. | Brilliant execution | BeefBrothers, s.r.o. | Czech Republic | OKD |
| Vader | Brilliant execution | Bleublancrouge | Canada | Star wars identities |
| Discover the craft of Toni&Guy, the beauty of hair | Brilliant execution | Nydrle | Czech Republic | Toni&Guy |
| The Anti-Drug Timeline | Creative use of technologies | Mccann Digital israel | Israel | israel anti-drug authority |
| Kooperativa navigation | Creative use of technologies | Kaspen/Jung von Matt a.s. | Czech Republic | Kooperativa |
| McSundae Melt | Creative use of technologies | Razorfish GmbH | Germany | McDonald's |
| Stones for Sakineh | Creative use of technologies | Euro RSCG Prague | Czech Republic | Amnesty International |
| Money Machine | Creative use of technologies | AlmapBBDO | Brasil | Peixe Urbano |
| Tweet Positive | Creative use of technologies | DDB Budapest | Hungary | Tweet Positive |
| EKO-KOM Samosebou | Creative use of technologies | Euro RSCG Prague | Czech Republic | EKO-KOM |
| Gift without borders | Creative use of technologies | MarkBBDO a.s. | Czech Republic | MarkBBDO |
| Christmas Surprise with Mariah Carey | Creative use of technologies | Saatchi & Saatchi | United Kingdom | Deutsche Telekom |
| Do It Yourself | Media engagement | Ogilvy & Mather, MindShare, Wunderman | Czech Republic | Ford Focus |
| The smurf village | Media engagement | Bungalow25 | Spain | Sony Pictures Releasing |
| Beneva Foundation - 1 in 4 women | Media engagement | JANDL, marketing a reklama, s.r.o. | Spain | Beneva Foundation |
| Frog Marketing | Media engagement | Red Pepper | Russia | Vatel |
| Der Solar-Jahresbericht | Creating the media | serviceplan campaign 3 gmbh | Germany | Austria Solar - Verein zur Förderung der thermischen Solarenergie |
| The smurf village | Creating the media | Bungalow25 | Spain | Sony Pictures Releasing |
| Artis Pictus | Creating the media | OgilvyOne a.s. | Czech Republic | Xerox ColorQube printers |
| Budweiser Ice Hockey | Creating the media | Kaspen/Jung von Matt a.s. | Czech Republic | Budvar |
| Kooperativa navigation | Creating the media | Kaspen/Jung von Matt a.s. | Czech Republic | Kooperativa |
| Fiat Panda in the ZOO | Creating the media | Leo Burnett | Czech Republic | Fiat Panda |
| GPS Boa | Creating the media | AlmapBBDO | Brasil | Antarctica |
| Secret Agent | Creating the media | Y&R Group | Czech Republic | Museum of Communism |
| Sky Fussball Oper | Creating the media | serviceplan campaign 3 gmbh | Germany | Sky/Serviceplan |
| Pepsi Epopee campaign | Creating the media | MarkBBDO a.s. | Czech Republic | Pepsi |
| Son/I Love/It´s not you/Boss | Storytelling | AlmapBBDO | Brasil | Volkswagen Original Parts |
| Translator | Storytelling | AlmapBBDO | Brasil | Tiguan |
| Deadlines | Storytelling | Café Communications | Hungary | Café |
| The Cub | Storytelling | Family Business | Sweden | Betsafe.com |
| Vacations | Storytelling | AlmapBBDO | Brasil | TOP Destinos |
| GE Bright Idea | Storytelling | AlmapBBDO | Brasil | General Electric |
| Wittness | Storytelling | Scholz & Friends Praha | Czech Republic | ProSichr |
| Movember | Storytelling | Kaspen/Jung von Matt a.s. | Czech Republic | Budvar |
| Mi name is Szabó Kinga | Storytelling | Café Communications / Café Film | Hungary | AVON - Signature Collection Against Domestic Violence |
| Pop-up Nightmare | Storytelling | NEW! | Lithuania | Pasaka Cinema Theatre |
| Empire Language School – Survive in the streets | Storytelling | digita.sk | Slovakia | Empire |
| The Sunrise | Storytelling | Publicis Italy | Italy | Heineken |
| Christmas with T-Mobile_Baloon/Touch screen | Storytelling | Saatchi & Saatchi | Czech Republic | T-Mobile Czech republic a. s. |
| Angry Birds Live | Audience engagement | Saatchi & Saatchi | United Kingdom | Deutsche Telekom |
| Kauko - remotely controlled design café | Audience engagement | hasan & partners | Finland | Kauko |
| Kooperativa navigation | Audience engagement | Kaspen/Jung von Matt a.s. | Czech Republic | Kooperativa |
| Present Simple | Audience engagement | Mccann Digital | Israel | Hamashbir |
| EKO-KOM Samosebou | Audience engagement | Euro RSCG Prague | Czech Republic | EKO-KOM |
| Movember | Audience engagement | Kaspen/Jung von Matt a.s. | Czech Republic | Budvar |
| Budweiser Ice Hockey | Audience engagement | Kaspen/Jung von Matt a.s. | Czech Republic | Budvar |
| Lucky Puck | Audience engagement | Wiktor Leo Burnett | Slovakia | Orange |
| Brave Book | Audience engagement | ACG Advertising Agency | Hungary | Brave Camp |
| Share with those who needs | Audience engagement | AlmapBBDO | Brasil | Casa do Zezinho |
| LEGO Builders of Infinity | Audience engagement | Serviceplan | Germany | LEGO |
| Do It Yourself | Audience engagement | Ogilvy & Mather, MindShare, Wunderman | Czech Republic | Ford Focus |
| Stones for Sakineh | Audience engagement | Euro RSCG Prague | Czech Republic | Amnesty International |
| G2 Account | Audience engagement | Euro RSCG Prague | Czech Republic | G2 Account |
| Pepsi Epopee campaign | Audience engagement | MarkBBDO a.s. | Czech Republic | Pepsi |
| PIAF Facebook application | Audience engagement | VCCP | Czech Republic | PIAF |
| WE RUN PRAGUE - 7000 Personal Mottos | Audience engagement | REVOLTA s.r.o. | Czech Republic | NIKE |
| Green Pardon forever | Audience engagement | ACG Advertising Agency Ltd. | Hungary | Green Pardon outdoor club |
| Re-button - Hungarian is in fashion | State as an Advertiser | ACG Advertising Agency | Hungary | Re-button - Hungarian is in fashion |
| Your Moment Is Waiting 1/2/3 | State as an Advertiser | Stark Communications Pvt. Ltd. | India | Kerala Tourism |
| Golf first | State as an Advertiser | Euro RSCG Prague | Czech Republic | Prague's Golf Courses |
| Open your world | Best Beer Ad | BERNSTEIN Werbeagentur GmbH | Germany | Heineken |
| Non-alcoholic beer - Cafe Girl/Bar Girl | Best Beer Ad | Kaspen/Jung von Matt a.s. | Czech Republic | Budvar |
| The Pilsner Compass | Best Beer Ad | TRIAD Advertising | Slovakia | Pilsner Urquell |
| Karlovacko Social Network: Intervention | Best Beer Ad | Bruketa&Zinic d.o.o. | Croatia | Karlovacko pivo (Karlovacko Beer) |
| The never ending Ad | Best Beer Ad | AlmapBBDO | Brasil | Antarctica |
| The Sunrise | Best Beer Ad | Publicis Italy | Italy | Heineken |
| Bite 1/2 | Best Beer Ad | DDB Budapest | Hungary | Borsodi |
| Staropramen redesign 2011 | Best Beer Ad | Cocoon Group | Czech Republic | Staropramen |
-mav-